A high-performing organization's ability to be successful depends largely on the talent of their team. So, how do you attract the best-of-the-best, and ensure that the impression of your company that initially won them over proves true once they're part of the team? Crafting a compelling Employee Value Proposition (EVP) is an impactful way to ensure employees and prospects alike have a clear perspective on what your organization has to offer today, and the promises it's making for the future.
Your EVP should: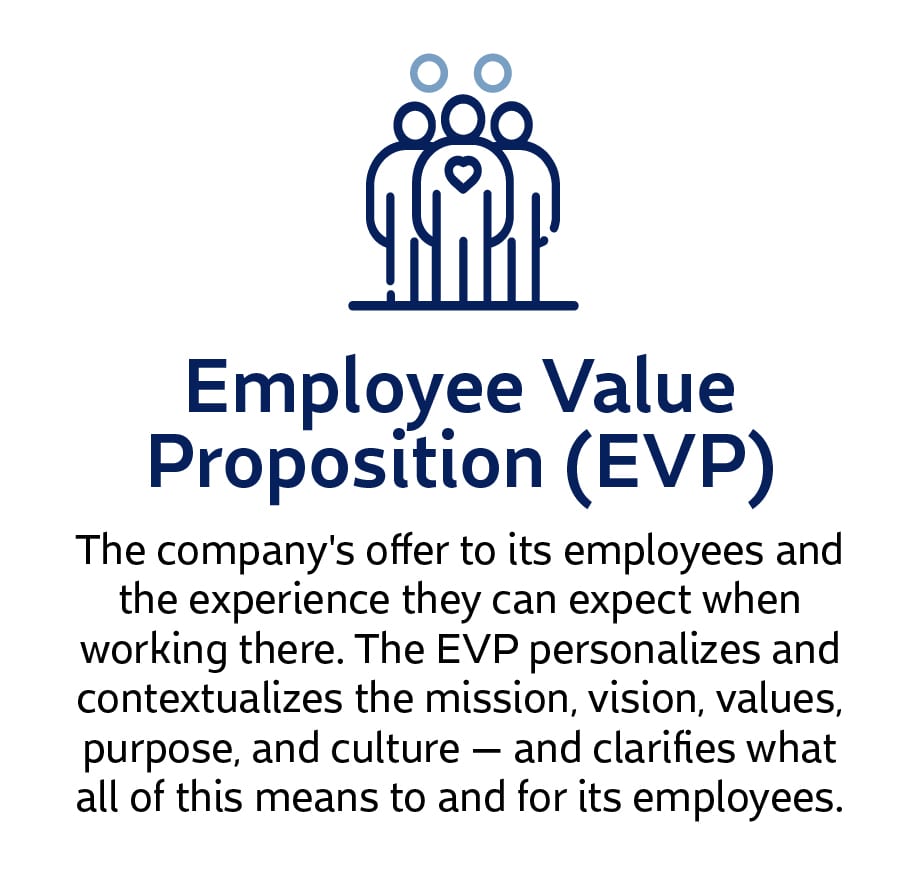 Characterize and differentiate the value they will gain from working at your organization
Balance the reality of what the organization offers now, and the aspiration for what it will offer in the future
Resonate with both existing and prospective employees
Appeal to a widespread audience
Provide a compelling strategic frame for your organization's talent initiatives and culture goals
Besides being clear on your talent targets, it's important to understand your existing and prospective employees' current perceptions about your organization, and how that lines up with the value they desire from a place of employment.
This takes deep listening into your organization to understand the value existing employees see now and the unrealized value they're searching for. Doing this will help you know not only what to focus on when crafting your EVP, but also what work needs to be done so that employees' experience in the company is reflective of your value proposition. Here are some of the types of questions you might ask your employees:
Key topics for conducting focus groups with your team:
Background/history with the company: What brought you here and what has your experience been like so far?
Current perception of the company: What do you see as the best attributes of working here, the greatest opportunities for future success, and the biggest challenges the company faces?
Vision and purpose: How would you describe the vision and purpose of the company, and to what extent do you feel that impacts or excites you?
Career progression: In what ways do you feel that your learning, development, and career aspirations are supported here?
Connection to coworkers: How important is this connection and what can be improved to establish a greater sense of community among the team?
When you inquire into your employees' experiences, it's important to consider that you're likely to get different types of answers from different types of audiences. With that in mind, consider conducting focus groups with different audience segments, to gain the most accurate view of how your people see your company.