No matter the size of your organization or the type of work you do, employee experience is more important than ever in today's business landscape. According to Joblist's most recent U.S. Job Market Trends Report, approximately two-thirds (67%) of employees plan to leave their current position within 12 months — with reasons such as flexibility, growth opportunities, and poor management driving the change.
If you're seeking new strategies to retain your current employee base, attract top talent, and foster a culture of loyalty and dedication, an Employee Value Proposition, or EVP, could help. Let's review what an EVP is, why they matter, and the essential components needed for an effective EVP. 
What Does EVP Mean?
An EVP, which stands for Employee Value Proposition, outlines the benefits, growth opportunities, and other offerings that contribute to employee experience. Your EVP also contextualizes your mission, vision, purpose, values, and culture and clarifies what this means to and for employees.
An Employee Value Proposition is not a marketing campaign. It is a promise to employees encompassing all aspects of the employee experience – and when done successfully, it delivers on that promise to employees. Essentially, your EVP exemplifies the compelling attributes of your employee experience and why someone would want to work for you, differentiates you from your competitors, and targets the talent needed to help you achieve your goals.
Why Do EVPs Matter?
Although the concept can sometimes feel ambiguous and be hard for companies to pin down, EVPs can drive real, tangible results for organizations. Research from CEB and Towers Watson shows that organizations that effectively deliver on their EVPs:
Decrease

annual employee turnover by 69%

Increase

new hire commitment by 29%

Are

5x more likely to report their employees are highly engaged

Are

2x as likely to report achieving financial performance significantly above their peers
Employee Value Proposition Vs. Employer Brand
Though you may hear the terms "Employee Value Proposition" and "Employer Brand" used interchangeably, these two pieces of your organizational strategy play different roles in your overall employee experience. 
Think of your EVP as the "why" behind your organization that articulates the intangible attributes of an employee experience, or those elements that attract and retain best-in-class talent. In other words, why should employees choose to work — and continue to work — for your organization? What are the key differentiators that make you a better fit for potential candidates than your competitors?
Your Employer Brand, on the other hand, is the creative expression of your EVP and more broadly captures your organization's identity, specifically as it relates to the employee experience. 
If you focus on Employer Brand alone, it may struggle to have the impact desired until you focus on developing an effective Employee Value Proposition and deliver on that EVP through your employee experience. Next, we'll look at the specific elements of an Employee Value Proposition that will make yours a success.
The Core Components of Persuasive EVPs
As you rethink your Employee Value Proposition, remember that — first and foremost — your EVP should present a compelling case for people to choose to work for your organization. Make sure your EVP is informed by and answers the following questions:
Why should someone join your company?
What is your company's differentiated competitive position?
Why should people want to work at your company?
Once you've found the right answers, you can start thinking about the more tangible elements of your EVP, which should include:
Career development and training programs.

This aspect of your EVP should highlight opportunities like promotions, company training materials and sessions, career stability, tuition reimbursements, and subscriptions to third-party learning platforms like LinkedIn Learning.
Benefits, perks, and compensation.

Your EVP should also draw attention to employer-covered healthcare, flexible or remote work capabilities, retirement plans, paid time off, parental leave, and other quality-of-life perks such as free office lunches or company retreats.
Company culture.

Your culture is core to who your organization is, so be sure to emphasize all your culture has to offer potential and current employees. Now is the time to showcase your team-building calendar, ERGs and DEI initiatives, core values, company vision, mission statement, and — most importantly — the people who embody your organization.
Work environment.

Whether your team is fully remote, fully onsite, or somewhere in between,

where

and

how

your people get their work done is an important piece of the EVP puzzle. Spend some time thinking about all your work environment has to offer — from the design of your office spaces to the ways you clarify roles and responsibilities.
Strategies to Create a Strong EVP
Once you've clearly defined the elements of your EVP, it's time to bring it to life in your organization. Here are a few tips on how to create an EVP that resonates with your people:
See what your team has to say.

An Employee Value Proposition that is not informed in some capacity by your people is one that will likely miss the real reasons why your employees choose to work for your business. Listening to what they have to say will point you in the right direction and ensure that your EVP makes the most impact.
Consider your employee personas.

EVPs should speak to

all

of your employees, and to that effect, it's important that you consider the employee personas that comprise your business and align your messaging to each of them. For your organization, that could include working parents, different generations, varying roles within your company, or geographical differences. 
Make it visual.

Employee Value Propositions

are best delivered through ongoing conversations and your visual identity with the intention to inform, inspire, influence, and mobilize.
Nurture your EVP with continuous feedback.

You've worked hard to evaluate, create, and disseminate your EVP, but the work isn't done yet. Organizations shift their priorities and strategic plans over time, and an EVP that stays the same will eventually no longer speak to the heart of who you are and what you offer your employees. That's why it's important you plan to revisit your previous EVP work, comparing it to where you are now and where you're headed.
Employee Value Proposition Infographic
Still not sure how an Employee Value Proposition would work for your organization? Our infographic below breaks it down.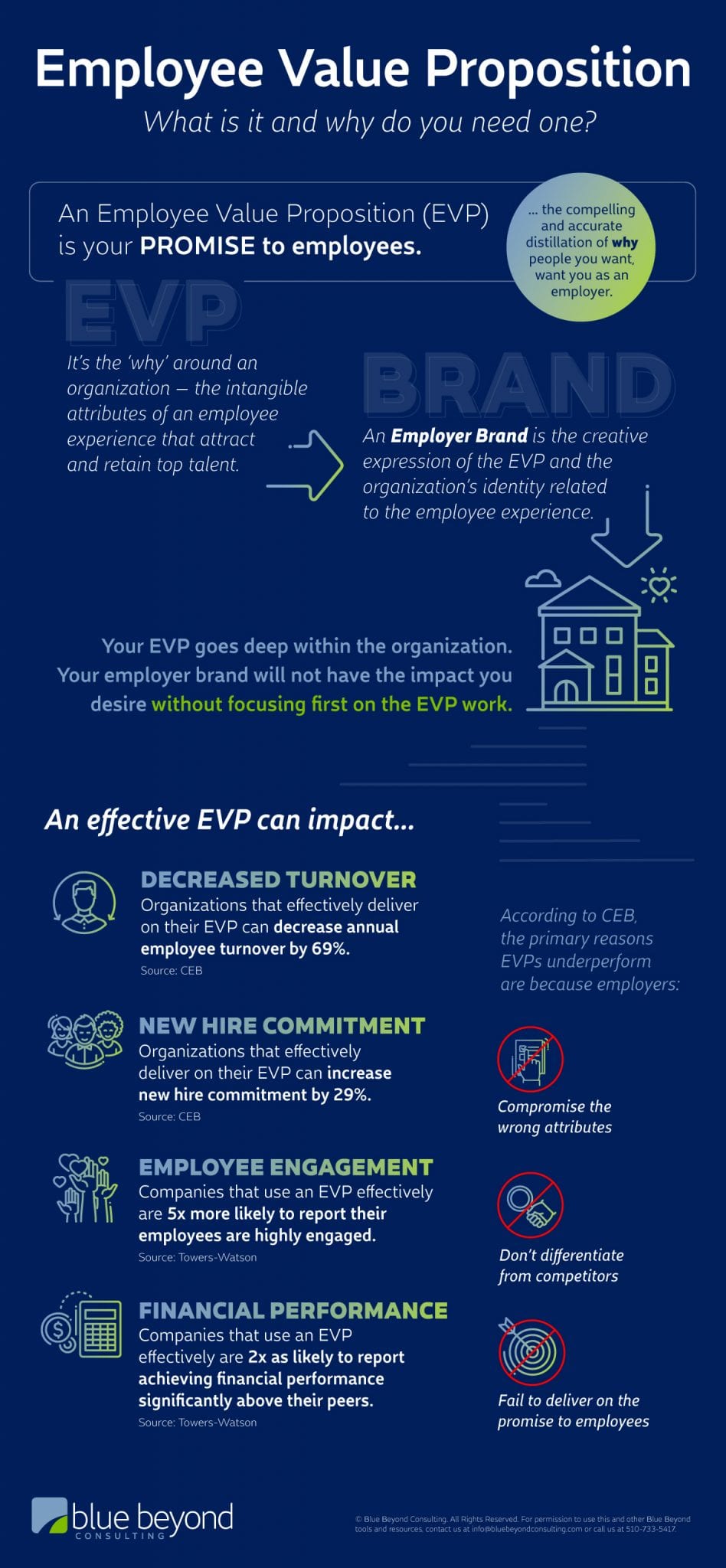 Final Thoughts
An Employee Value Proposition is a vital piece of your organizational strategy and an essential building block in your Employer Brand. Organizations that are prepared to build, live, and sustain a value proposition for employees position themselves to create environments that motivate their people, maximize productivity, and attract (and retain) the best talent. 
Seeking more help with revitalizing your EVP approach? Our EVP eBook has the answers.