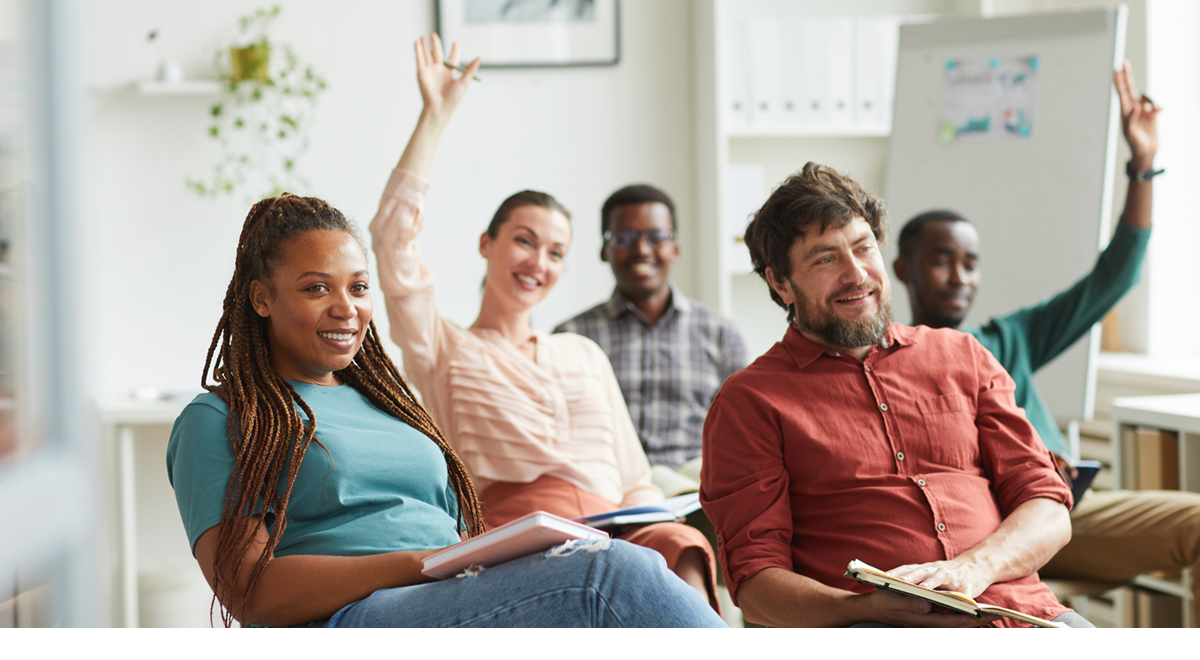 Getting the most from a cultural assessment
Just as there are many ways to define culture, there are different methods for conducting a cultural assessment. If you're considering undertaking one in your organization, Sue and Gabby have good advice for getting the most out of the process.
Gather feedback that's both deep and broad
An all-company survey may allow you to get information from everyone who works in the organization, but it isn't the best forum for employee expression. Blue Beyond conducts focus group sessions to dig deep into key issues, giving employees the time and space to speak freely about culture. Focus groups – which should always include people from all levels of the company – can then be followed by an all-company survey. "The survey lets us pressure-test some of the information we learned in the focus groups," Gabby said. "It also ensures that every employee has a chance to have their voice heard."
Make sure the assessment is designed for you
No two companies are alike, no two cultures are alike, and no two assessments should be alike. An effective cultural assessment begins with understanding your organization's goals and vision. "Culture is such an enabling factor to reach a company's goals, whether that's profit, less turnover, attracting talent, innovation and so on," said Sue. "We want to know: What is the purpose of bringing us in? We have a methodology and thought process but it's very specific to the client's goals."
Engage leadership, not just HR
Nurturing culture feels like it belongs in the hands of HR, but when it's implemented well, it moves beyond that realm. "Culture is not an HR thing, it's a business thing," Sue said. 
"If we're engaging that leadership team, that's going to drive the culture," Gabby agreed. "More and more clients are looking at making culture not only an enabler in their business strategy but a driver to reach goals." Leadership buy-in across departments helps ensure culture remains a priority.
Choose the right time
Cultural assessments are often most useful in and around periods of change. The reasons to do an assessment can be proactive or reactive – both are valid strategies. "A business might be proactive and say: We have foresight, but let's do an assessment to see where we are and use culture to help us get there. And we're seeing more and more of that," Sue said. "But 3-4 years ago, it was more reactive, based on retention, or what the organization was hearing about culture in exit interviews."  She continued, "There may also be things happening in the business that make it a nice point in time to do this, such as a change in leadership. That's a good time to pause, take stock, and think about: Where do we want to go in the future?" 
External change can also trigger the need for a culture assessment. Gabby explained, "Right now, for example, with the battle for talent, the changing priorities of the next generation of employees, and being competitive in your industry, you might need to be doing an assessment. There could also be some other external factor that has you rethinking what you need to keep your business moving forward."
Be ready for next steps
A cultural assessment is just the first step in an ongoing process. "After the assessment come recommendations and a plan of action," Gabby said. She recommends actions that give employees something tangible right away. 
Sue agreed. "Culture change does take time," she noted. "Depending on where you are and where you're looking to go, it could take years to get there." But, even with a long-term goal, it's important for employees to begin seeing change quickly. That might mean immediately implementing a recognition program or forming a special team around one of your goals. Your action plan should be specific to the findings of your assessment and your goals.  Sue shared an example. "I have a client, and people love the culture, but they're not talking about it," she said. "So their activation strategy was focused on articulating their culture." Follow-up should also be part of the tactical plan. Pulse surveys at regular intervals can help measure progress toward goals, in between doing your next full-scale assessment.
Consider a consultant
Culture is complicated, and the results from an assessment can be a lot to digest.
"There's so much you can do with the findings," Gabby noted. "It's helpful to have a consultant come in and unpack them." Gabby said consultants are helpful guides to getting organizations to the change they want, without overwhelming them. "Consultants can hold up the mirror and say, 'Let us help you to achieve the goal' and break down the theme into actionable items," she said. "Then the organization can see some quick wins and employees experience those. You do this by doing small changes quickly, so it shows up right away. Consultants help you do that by thought partnering and supplementing what you're doing to get things done more quickly."