The importance of stakeholder analysis and mapping
Stakeholder analysis and mapping makes decision making easier. It will inform almost every decision you make in regard to your stakeholders, including the frequency of your communication, the timing and agenda of your meetings, and how much information they're given. It helps you create a communication and management plan that ensures you're sharing the right information, with the right people, in the right way. 
Without analysis and mapping, communicating with the people who have influence, impact, and interest in your work is challenging. In addition to guiding your communication, analysis and mapping helps you:
Gain more support and resources

Achieve early alignment on goals and plans

Increase project visibility, especially with key stakeholders and leadership

Build engagement and enthusiasm around project deliverables

Understand and resolve potential risks 

Mitigate miscommunication

Prevent costly roadblocks later 

Receive important feedback about issues or concerns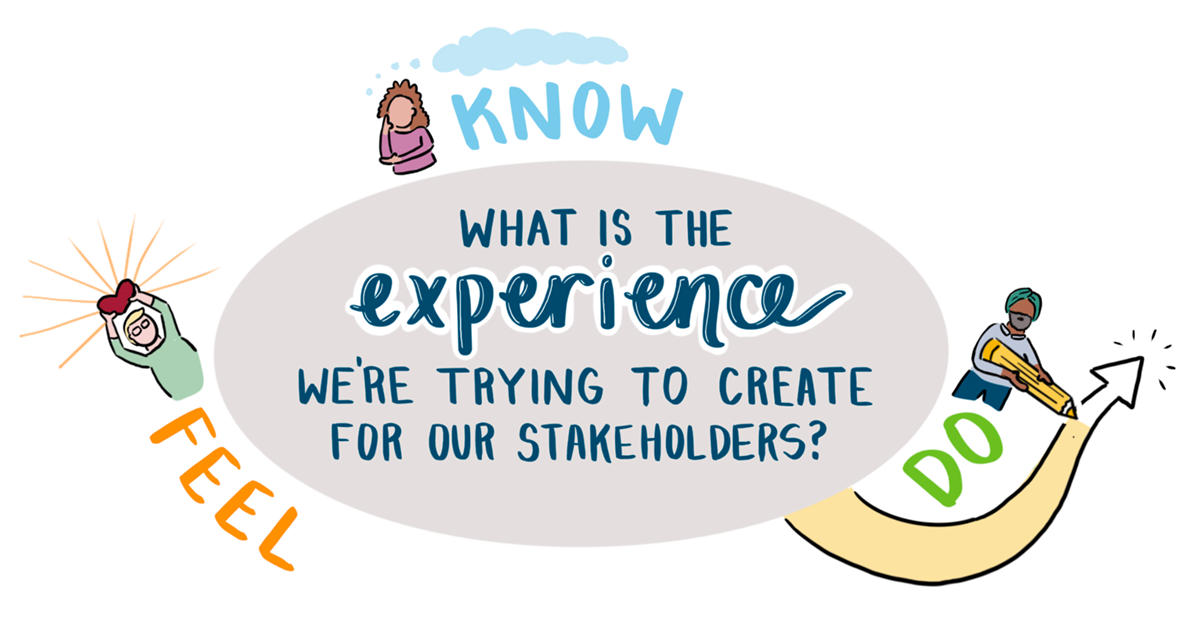 When is a stakeholder map critical?
Although mapping can be done at anytime, it's essential when you're:
Launching a product or service:

Knowing who the key players are from the start helps streamline the design, build, and rollout of a new or redesigned product or service.

Trying to enter a new market:

Understanding new and existing customers, investors, vendors, and partners gives you a competitive edge as you look to introduce your brand into a new market.

Implementing marketing campaigns:

Insightful intelligence on high priority stakeholders, both internal and external, helps you build a successful ad campaign, loyalty program, etc. 

Starting a new project:

A strong strategy and communication plan begins with knowing who impacts your project deliverables.   

Building better relationships:

Having a defined, scalable, and repeatable process for engaging stakeholders helps build trust more quickly and effectively.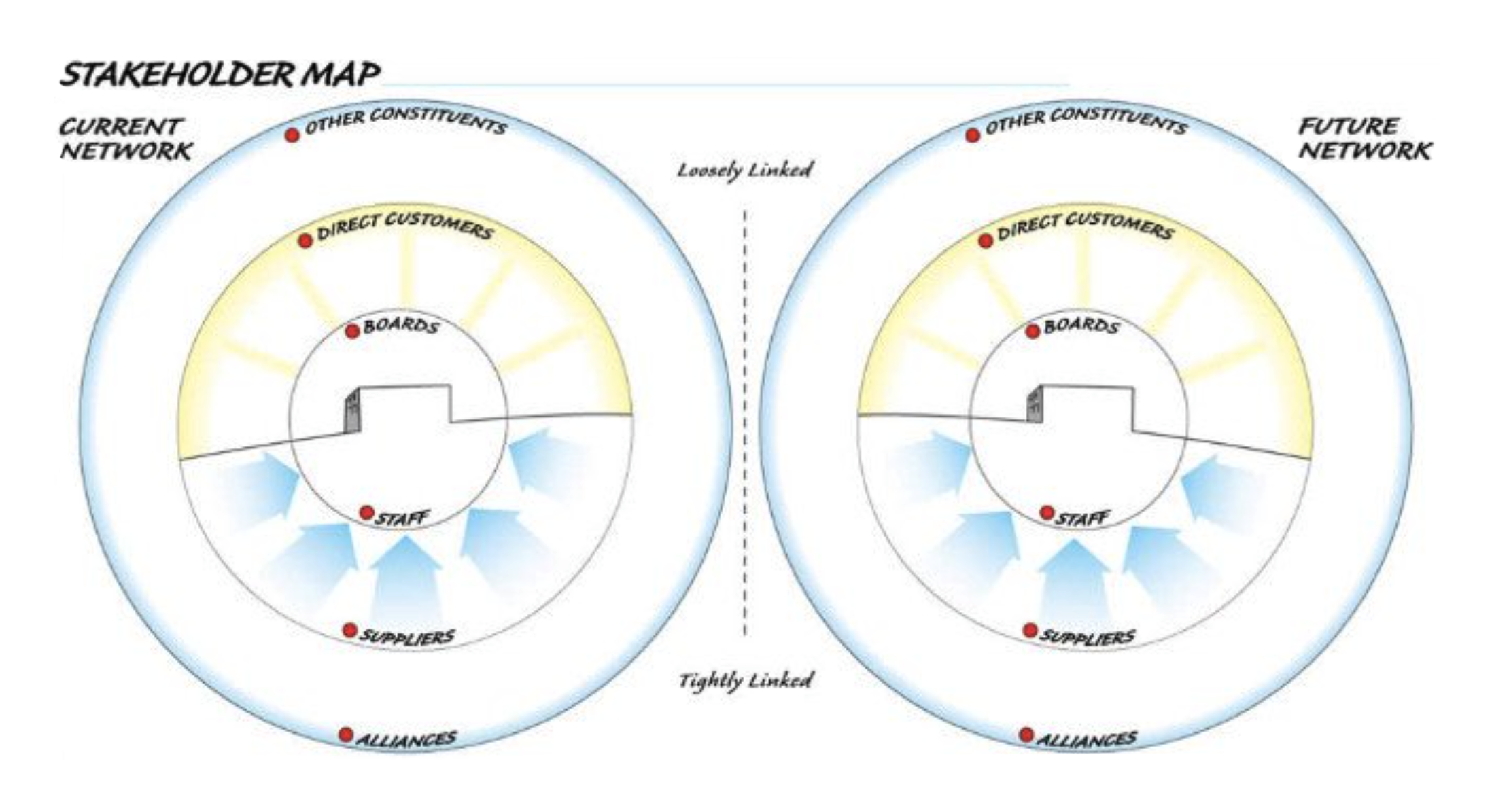 How Do I Create A Stakeholder Map?
Here are the four key steps to create an effective map:
1. Brainstorm
Identify everyone who has a stake in your work, who has influence or power over it (positively and negatively), and who will be directly involved. Consider utilizing a chart to track who everyone is, why and how they're connected to your work, their communication preferences, and their influence. 
Acknowledging how people impact your work (or vice versa) allows you to tailor your stakeholder management strategy and communication plan and gives you a good starting point for your map.

2. Organize
Now it's time to segment. Find a common factor between the stakeholders and organize them into categories. Whether it's by position, interests, or engagement, splitting up the stakeholders into categories helps make the information more meaningful. Be sure to include both internal and external stakeholders. 
If helpful, use a simple chart to help you place stakeholders into categories that make the most sense for your project. Your categories could include:
Category breakdown

3. Prioritize
Next, prioritize your stakeholders by analyzing and assessing their level of influence, interest, and involvement. A popular method of doing this is a Influence-Interest grid where stakeholders are grouped into four categories:
High influence/low interest

– these need to be kept engaged enough to make them feel their voice is seen and heard on key points (KEEP SATISFIED)

High influence/high interest

– these stakeholders need to be fully engaged and are likely approvers and sponsors; they will require lots of active collaboration to engage and gain buy-in. (MANAGE CLOSELY)

Low influence/low interest

– these stakeholders need to be monitored and kept informed but low effort is required. (MONITOR)

Low influence/high interest

– keep these stakeholders regularly informed to maintain their interest and monitor for risks. (KEEP INFORMED)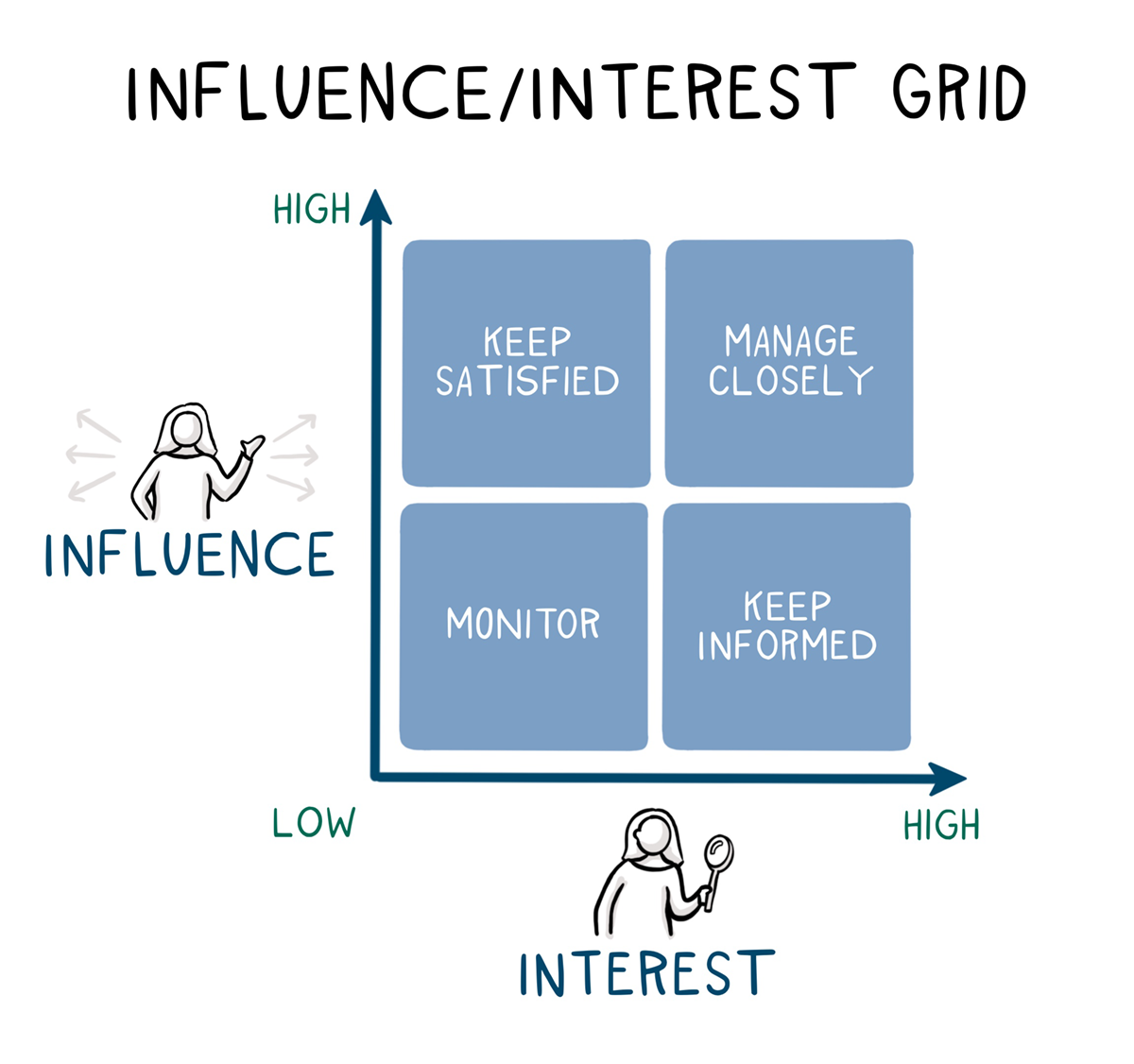 4. Communicate
Once you've identified, organized, and prioritized your stakeholders, it's time to create a communication plan for engaging them, keeping in mind their influence and interest levels. Although there are various ways to communicate, here are some best practices to be transparent and accountable:
Remember your high influence/high interest stakeholders.

They will need lots of face-to-face communication and engagement to keep the ball rolling in your favor. Building trust with them should be your first priority.

Plan for risks and opposition.

Some stakeholders may not be onboard and could create obstacles. Try to anticipate their objections and questions so you can provide solid answers to quell their uneasiness. Enlist the help of someone who has the same power-level as they do to speak with them. 

Create a plan for the right level

of information for the right level of stakeholder via the right communication vehicle. Use the Power-Interest Grid to guide your communication efforts. 

Focus on people, not structures.

Building relationships with your stakeholders takes time and patience. Recognize that each person is different and refrain from judging what stakeholders value. 

Build a framework for feedback.

All stakeholders want to feel seen and heard so create regular check-ins based on the Power-Interest Grid to ensure everyone has a voice. 

Keep detailed records of all stakeholder communication

,

including emails, phone calls, recordings of virtual meetings, and written communication. Misunderstandings can cause delays and setbacks, but keeping detailed notes helps everyone stay on the same path, working toward the same goal.
What's Next?
At the risk of sounding like Captain Obvious, once you've completed your analysis and mapping you need to do something with it. Don't just create it and file it away. Consider it to be a living, breathing document that needs to be refreshed and revised as time goes on. The more up-to-date it is, the more effective it will be in helping you create a strategy to engage.
Creating a stakeholder analysis map is a win-win for everyone involved. You win by having the knowledge of who you need to engage with, why, and how often and your stakeholders win by receiving the right information in the right way.