It's not surprising that many employees feel lost when starting a new job. It's perfectly understandable to feel that way when adjusting to a new workplace, new coworkers, new norms — everything new! A thoughtful onboarding program is the key to helping employees through this transitional period as quickly and painlessly as possible. Whether you're building a brand new onboarding program or looking to refine your existing approach, following these 7 tips will ensure every new employee who joins your team feels welcomed, supported, and ready to take on anything that comes their way.
1. Start from the beginning
There's no magic reset button that gets pressed on an employee's first day on the job, so start from the very beginning when thinking about how you'll make a great impression with your onboarding program. A new employee's experience starts from their very first contact with your company. Work with recruiting and other teams across your organization as needed to make it great every step of the way.
2. Nail the basics, then build
Most employees won't be excited about the amazing brunch or inspiring panel at orientation if they didn't have the directions they needed to get there, a parking pass, or a team member waiting to welcome them on arrival. Focus on getting the basics right first (logistics, equipment, etc.), then build on the experience from there.
3. Know your audience
Every employee past, present, and future has been affected by the onboarding experience at your company and probably a few others as well. So ask them what they like, what they'd change, and what they can do to help you build an onboarding experience that is thoughtfully designed and uniquely yours. Use surveys, focus groups, hallway conversations — anything you can to gain this valuable insight.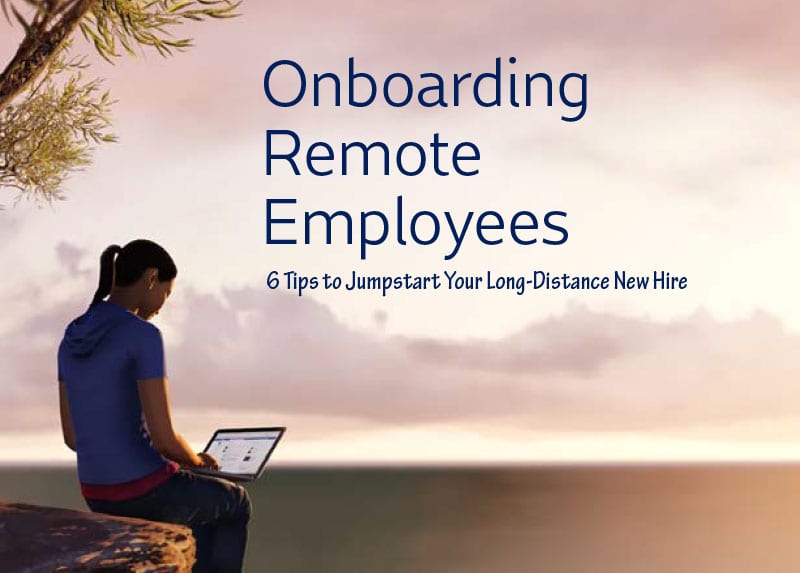 Download our Guide for tips on how to make your remote employees feel like they're getting a warm welcome even when you're a thousand miles away!
4. Be inclusive
Your onboarding program might be one-size-fits-most, but it likely won't be one-size-fits-all. What are the different cases you need to design for? Contract-conversions? Recent college graduates? Remote employees? International employees?
5. Make onboarding a team sport
It takes a village to onboard a new employee. While the hiring manager is on point to prepare for the new employee's arrival, the entire team has an important part to play in welcoming and equipping their newest colleague. Recruit the peers who will have the most ongoing contact with the new employee to share their vital knowledge about the inner workings of the team — the tools, rhythms, relationships and processes they'll need to become familiar with.
6. Give the gift of context
An employee's confidence and contribution really accelerate when they can see the big picture. Be sure to build in ways to pass on the tribal knowledge of your company's history, personality, and trajectory. Understanding where you've been and how you got here will help them see where you're going and how they can help.
7. Be there for all their firsts
Many employees say it takes them up to a year to stop feeling new because there are so many "firsts" that take place even months after they join. Prevent information overload in their first weeks of your onboarding program and provide help when they need it most by offering just-in-time training to support employees through key processes and events that happen at set points throughout the year (performance reviews, employee stock purchasing, benefits open enrollment, etc.).