Is your organizational culture supporting your business strategy? If your answer to this question is no, you're not alone. The research shows that most executives believe their culture doesn't align to their business strategy.
According to the 2016 Global Human Capital Report, 86% of executives believe their company's culture is an important or very important issue—but only 12% of those executives believe they are driving the right culture. To top it off, nearly 70% of the executives surveyed reported there was a disconnect between culture and strategy (2015 Korn Ferry executive survey).
We know great cultures are good for business. As organizations find it harder to attract and retain talent, high-performing cultures are now seen as a competitive advantage. According to Bersin, 95% of candidates believe culture is more important than compensation.
Focusing on organizational culture may be the single most important thing holding your company back from executing on its business strategy.
So how can you change culture, or better yet – evolve culture?
Changing an organization's culture can feel daunting, in part, because culture isn't owned by any one person (not even the CEO) or function (yes, we're looking at you, communications and HR)—culture is owned by everyone. That's the beauty of culture, but it's also what makes this work so difficult.
Whether you're just starting out or you've been focusing on culture for years, here are some baseline assumptions to keep in mind:
It's rare to truly "change culture"—a better mental model is "evolve culture." Changing mindsets and behaviors doesn't happen all at once, it happens step by step, and it takes time and commitment from all levels of the organization.
"Why" leads to "what" and "how"—a compelling business rationale is essential. This is usually the first step and requires a deep investment from leadership and meaningful conversations from across the organization to clearly articulate the "why".
Leadership is crucial but not sufficient—"CEO-says" approaches rarely succeed. If culture is owned by everyone, you need to think about how everyone can be involved and contribute to the organization's success.
The method is the intervention—the way you go about involving employees in evolving culture says a lot about the type of culture you want to create. A high-performing culture doesn't exist without highly engaged employees so your engagement strategy should support your culture and business objectives.
Brand and culture alignment is key—culture is invigorated when who we are on the inside and who we are on the outside is aligned. A strong connection between your employees and external stakeholders can help bridge this gap.
Where can you start?
We've created a framework any organization can use as a starting point toward evolving culture. Download our playbook "Culture Change That Works" for a 5-step best practice approach to culture change with practical tips and activities to help you build a plan that works for your organization.
Need help getting employees on board with your change effort, contact us today to start a conversation about how we can help!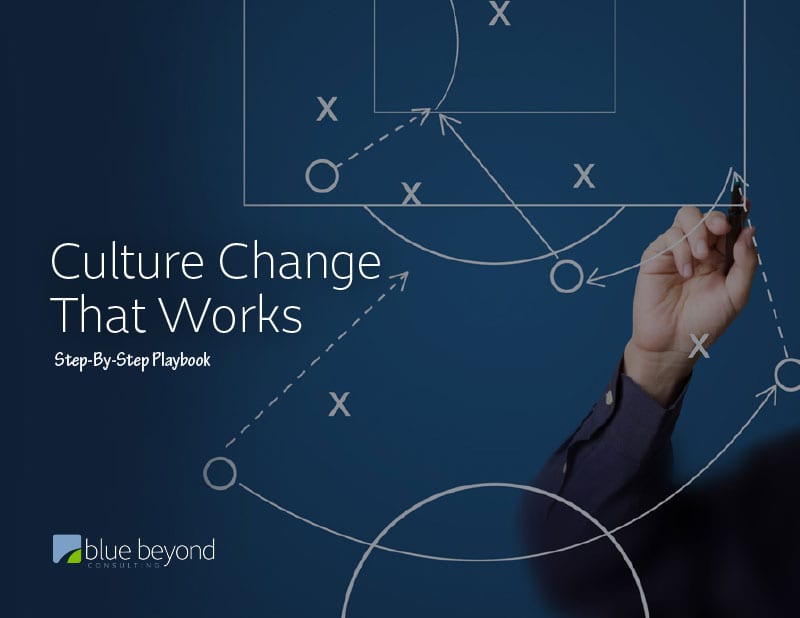 Download our Culture Change Playbook for step-by-step advice on how to create and sustain an effective company culture.