For those of us who've spent decades in a communications profession, there probably isn't a week that goes by when Dorothy's words, "I have a feeling we're not in Kansas anymore," don't pass through our minds. To say our methods of communication have changed due to the digital revolution is an understatement. Yet, some tried-and-true channels continue to enable us to reach far and fast — like the Corporate Intranet. Chances are, you may be considering an intranet redesign to respond to today's growing business challenges and demanding web users.
Our client, Thermo Fisher Scientific, faced this challenge and, while what they created is pretty impressive, how they created it is being acclaimed as a best practice.
"Following Thermo Fisher Scientific's acquisition of Life Technologies in 2014, one of the key priorities was to seamlessly integrate our new colleagues into the company. However, with two distinct employee intranets – each with its own advantages – the "one company" culture was at risk. Tasked with a goal to leverage the best of both platforms and unite them in the next-generation intranet, we set out on a journey to define the vision, identify the voice of the customer and prepare our 55,000 global employees for a significant change in the user experience."
— Tara Lagomarsino, senior director of employee communications, Thermo Fisher
Blue Beyond partnered with Thermo Fisher to develop a comprehensive Change & Communications Strategy & Work Plan to engage stakeholders while transforming their disparate intranets into a cohesive collaboration tool that enables employees to work smarter, innovate faster and connect globally.
With several months of impressive results since their new intranet launch, Thermo Fisher's Tara Lagomarsino, senior director of employee communications, and Brian Duke, senior manager of intranet solutions, spoke at the Advanced Learning Institute's Annual Intranet & Digital Workplace Summit.
"We wanted a robust change plan and we got one," said Tara, strongly recommending to conference attendees that they hire an experienced change strategy partner. "We executed it to a tee," she added, "and this [effort] has been praised as Thermo Fisher's most effective technology change in years."
10 Tips For A Successful Intranet Redesign
Tara's team established credibility early into the process by not only leveraging the company's formal process improvement approach as they planned their roadmap, but also rallying executive sponsors – with representation from Communications, HR, IT and Finance – to champion this work and help remove obstacles throughout its development.
Below are some best practices used to successfully upgrade the Thermo Fisher intranet and boost employee adoption in the near- and long-term.
Position intranet as a business tool

(not just a communications tool).  Tie its functionality or capabilities to your company's business goals.

Establish clear and compelling project objectives

that tie back to your business goals.

Think like your leaders

and create a compelling case when presenting your strategy or asking for more resources and money.

Establish a manageable "phased approach"

to the work ahead so that it feels less overwhelming and is more attainable.

Establish baseline metrics

to monitor, measure and report results.

Establish a robust communication plan

that aims to not only create awareness, but also — through an ongoing campaign — change attitudes, boost understanding, motivate usage and drive buy-in.

Engage key stakeholders

in receiving and delivering information, as two-way conversations can be an impactful form of communications.

Target training content to specific stakeholders

. Start by keeping it simple and in bite-sized increments.

Identify potential obstacles and risks

and possible impacts of those. Create an action plan to prevent or minimize any occurrence.

Take steps to avoid the "launch and leave syndrome,"

including the establishment of a governance body, early win "use cases" and a measurement plan.
Download a more detailed version of these tips.It's critical to go beyond a "show-and-tell" approach to initially engage stakeholders and ultimately change the way employees work. Thermo Fisher recognized the need for a robust, yet agile, plan, allowing room to flex to changes in their environment. Nearly six months after launch, they maintain an unwavering commitment to executing the plan.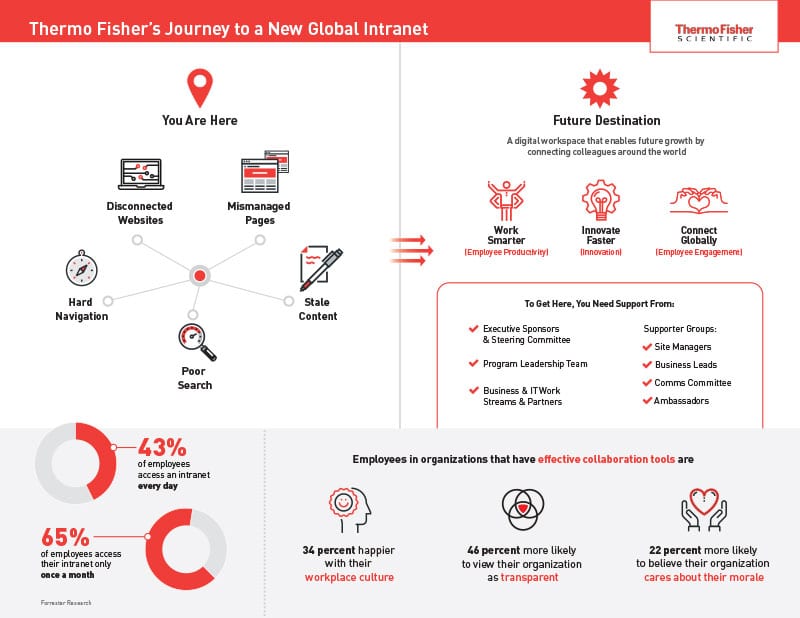 Considering an intranet redesign?

Download this infographic
Download this two-sided infographic which visually details Thermo Fisher's journey to a new global intranet.