Visual communications and design thinking is core to what we do for our clients and how we do it. Our team of visual communications consultants turns complex concepts into visuals that create lasting connections and emotional responses from audiences. Visual communications isn't about producing deliverables, it is an integral part of the strategy and process to achieve a desired outcome. We spoke with our visual communications and design thinking team about what the work means to them, and the incomparable impact they've seen it have on client partnerships: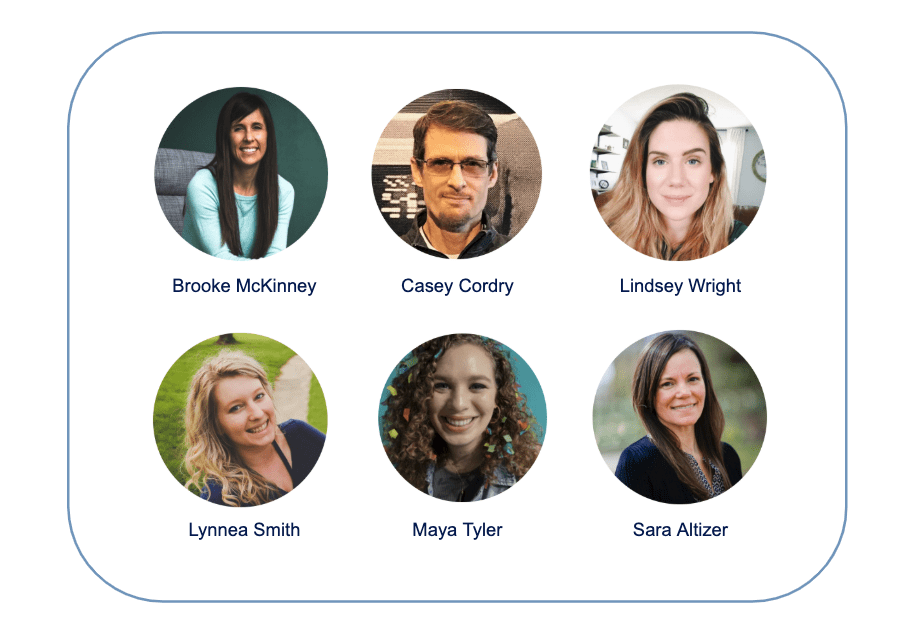 What is the difference between a visual communications consultant and a graphic designer?
Brooke: As visual communications consultants, we work closely with clients and our consulting team every step of the way on the overall strategy and best approach to help the client achieve their goals. Graphic designers tend to focus more on the development of visual concepts, layout, and production design for specific deliverables — like brochures, ads, or posters. We know how to ask the right questions, beyond just the design work, and we take the time to truly understand what the business and the end users need. We are also able to lean in and fill immediate visual communications gaps that internal design teams may not have the bandwidth for.
Sara: We are not hired to just produce deliverables — we are deeply engaged in every step of the process so we can truly understand our client's specific context and goals, in order help them achieve the outcome. It's a true collaboration and partnership vs. a transactional relationship.
How does visual communications and design thinking add value to client partnerships?
Sara: People are bombarded with so much information and content all the time. The work we do cuts through the clutter and helps create a deep emotional connection with employees, one that is impossible to do without visuals. We approach things through a design thinking lens — we think differently than someone with an HR or Comms background and they think differently than us, which is why the partnership with them is so important. It's easy to be siloed and think only of your own perspective on how to do something. In general, our clients are leaders in organizations working on complex issues, and we create ways to communicate that are more consumable and digestible.
Maya: Visual communications work creates a common touchstone for clients; we're able to create short-hand versions of bigger ideas that people can easily go back to — to remember what's important and what's at the core of the work.
Lynnea: Visual communications work plays a vital role by simplifying complex content and forming powerful emotional connections.
Lindsey: We really strategize around the projects we do, and add our own input to the bigger picture of the work — not just the design and visuals.
Sara: What we do here is unique, because we really have to think about what the company we're partnering with stands for, what the employees care about, and think deeply about the audience. We partner with our team of consultants on the strategy of how to communicate to the audience through visuals.
What challenges have you seen clients face that visual communications has provided a unique solution for?
Sara: A Fortune 500 global tech company came to us with a very specific request — help them design a talent management web-based tool for their managers. They thought the "thinking" behind this project was already done. But then we began to examine every step of the employee experience and discovered the tool had been originally designed from the perspective of HR, and not the managers. We shared our insights and they agreed with us that there was a better way to do it, and together, we took it back to square one to create a much more audience-centric and effective tool.
Casey: And that client saw the value of what we did and is bringing us into more work — specifically around talent management, career development, and the employee experience. There is less of "this is what we want — go do it" and more of a relationship as a true thought partner.
Sara: We've found that visual communications helps clients in creating trainings and workshops, or to roll out big programs. The experience we create in a room for people in partnership with the consultants is more interactive and creates the environment for people to have the "aha moment" themselves, instead of just telling them something. It's much more about discovering and exploring and encouraging rich conversations, and is very hands-on — with the use of compelling printed visuals, like cards to sort, workbooks, journey maps, posters, etc. In today's very digital world, tactile experiences can have a lasting, memorable impact.
Casey: We help design the experience, not just the look of it. We help attendees feel engaged on multiple levels, instead of just listening to someone.
Do you have any favorite kinds of projects you've worked on that have been particularly exciting or inspiring to you?
Brooke: Employee Value Propositions (EVPs) — The common thread is how we create a connection from the consultant work our team does to the people that we are doing it for. People are such visual creatures, and we want to generate excitement around EVPs that creates an emotional response from employees.
Sara: Purpose and values — It's inspiring because we see companies trying to do good for the world, and it's also fun, creative work. My favorite part is the concepting around it and working together with the team. Projects that require a lot of brainstorming and group genius are always my favorite.
Lynnea: I just absolutely love that I'm able to touch a multitude of different projects, which allows us all to continue to grow and become more versatile designers.
Maya: The crossover between graphic recording and visual communications — We created a visual for a client in the medical field, which showed their vision for the future and what made them unique in impacting children's lives. I love that the visual was created through the voices of all the people in the room, and now lives on as a touchstone and a communal way to talk about the work they're doing and what they want to do in the future. Visuals like these let the excitement and invigoration that happened in those in-person meetings to live on in the organization and continue to inspire. It allows people to have ownership, because they see their own voices reflected in the visuals we create. The end product of what we do is the result of conversations and listening. It's so impactful when we emerge with a beautiful visual that also ties in a lot of different perspectives.