Diversity, equity, and inclusion (DEI) in the corporate world has long been thought of as just another group of buzzwords, with nearly 51% of white c-suite executives believing that it distracts from a company's "real" work. This prevailing apathy has led some organizations to do little more than give lip service to the idea, along with checkboxes for tokenistic "diverse" hires. For many, it's difficult to even begin the conversation around the systemic inequalities that exist in the workplace, let alone create real, lasting changes that truly work to level the playing field for people with marginalized identities. But, with recent events shining a bright light on these issues, and the "Great Resignation" putting pressure on headcounts, it's never been more important to address DEI in the workplace. And it starts with courageous conversations. 
What is a Courageous Conversation?
Courageous conversations are those that are initiated with the purpose of discussing issues that are difficult and uncomfortable, such as talking about systemic racism or lack of women in leadership. The nature of these types of conversations means that emotions are often very high and it can be embarrassing, awkward, and just plain stressful for those involved. These kinds of conversations take courage and require openness, authenticity, a safe place, and honesty to make it work.  
Courageous conversations are not just about the skills needed to get through the hard bits though; it's also about using inclusive and purposeful language to move the conversation forward in the right way.  Although it's challenging to get through, it's an opportunity to build positive relationships and acknowledge the barriers that make work-life integration nearly impossible for so many.  
"I Don't Want to Talk about Politics"
Courageous conversations are not about politics. They're about people. Take a look around your workplace and notice all the different types of folks you interact with everyday. Or your customer base; or your supply chain. Look at your kid's school or the grocery store or the coffee shop where you get your cup of Joe every morning. The world has changed and organizations need to change their business strategies to hire, develop, and retain top talent and stay competitive.
It's also important to acknowledge that societal issues are business issues. It's not a byproduct of the world creeping in; it's a tangible shift that has a direct impact on your employees and your organization.  Income inequality, resource scarcity, barriers to education and employment, racism, sexism, bigotry – the list is endless but the consequences are very real. Employees are expected to bring their whole selves to work, show pride and commitment to their job, and be cooperative and productive. But, for the vast majority of people, they come with the heavy weight of these burdens on their shoulders, day in and day out. Having courageous conversations means recognizing this, acknowledging that life cannot be "turned off," and working to find equitable solutions to relieve exhausted employees.   
Courageous Conversations are Good for Business   
In addition to the people element, having courageous conversations around DEI and actively putting in place strategies that encourage and support it helps organizations to realize significant return on investment (ROI), both financially and talent wise.  Next time you're tempted to consider DEI a "distraction" and avoid courageous conversations, remember this:
It's Time to Talk
Courage is derived from the Latin word Cor which means heart. In Old French, there is the word Corage which denotes the heart as the center of all feelings. We know that courageous conversations can be incredibly difficult and elicit strong emotions and frustration. These strategies will help you find the courage and heart to sit down and talk with purpose:
Be intentional:

Do your homework beforehand. Have a clear focus and purpose. Know what you want to get out of the conversation and do what you can to get it. 

Be engaged:

Avoid distractions and practice active listening. Care and value each individual by actively working to acknowledge differences and assume good intent. 

Be uncomfortable:

Allow yourself to look at situations, feelings, and events in a different way and view it as a growth opportunity.

Be open:

Assume the best in everyone. Alleviate fears of punishment for speaking truthfully and give people confidence that their experiences are valued.

Be curious:

You don't know what you don't know. Ask thoughtful questions with the goal to gain understanding. Be ready to learn, unlearn, and relearn.

Be bold:

Own your strengths and weaknesses and engage others who have skills you lack. Set clear priorities beyond the conversation and pair action with knowledge.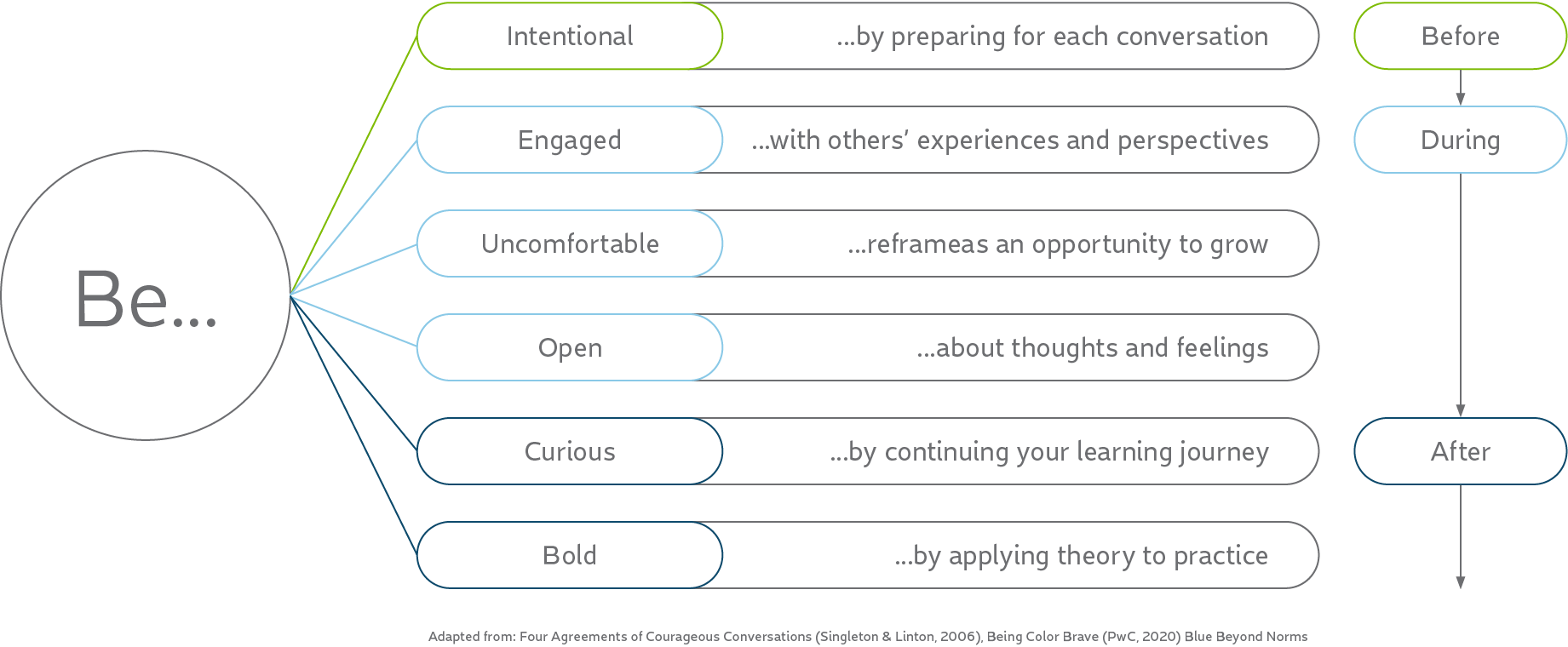 Courageous Conversations in Action
At Blue Beyond, hosting courageous conversations is one way in which we engage, encourage, and enable our team to address difficult issues in the workplace — effectively and respectfully. We utilize holidays and heritage months such as MLK Day, Black History Month, Latine and Hispanic Heritage Month, Asian American and Pacific Islander Heritage Month, and PRIDE to guide discussions and build resource packs with additional learnings. We also have dedicated, facilitated sessions along with presentations and group discussions where everyone has an opportunity to ask questions, provide feedback, or share their own personal stories.    
These conversations give everyone a chance to communicate openly and honestly, while being confident that this is a safe space to do so. In turn, leadership gains insights into workplace relationships as well as feedback on how to improve and continuously reaffirm a commitment to building a culture of Deep Trust and High Expectations™. The discussions are part of the wider DEI strategy and help to set goals effectively, act in pursuit of those goals, and reflect on these actions and the impacts, in every facet of the organization.    
Embrace the Challenge
These conversations are going to be hard. And that's okay. But developing and maintaining a high-performing and committed workforce demands that organizations seek dialogue. Building an atmosphere of trust and respect is key. It enables individuals to participate in courageous conversations and establishes a culture in which dialogue and feedback are seen as a vital part of the overall business strategy.