In today's virtual world, company-wide meetings come in all shapes and sizes and serve as critical engagement opportunities. They represent the few times a year all employees come together to participate in a singular event as a company. Whether you have 10 employees or 100,000, there are many things to consider to ensure you are effectively delivering the right message at the right time, and that your employees are benefiting from time well spent together.
5 best practices for developing company-wide meetings that engage employees everywhere:
1. Location, location, location!
Your first step is making sure everyone can participate no matter their location. That means not only accommodating employees in your physical meeting location, but also those in regional offices, remote/home offices, and those who might only be able to access a recorded version of your webcast after the meeting. Some tactics to enhance global participation include:
Host remote viewing parties in regional office locations so employees can watch the live webcast together.
Give on-camera screen time to a remote office to share an update from their part of the world.
Use time zone differences to your advantage – give donuts to attendees at your 9 a.m. meeting in California, pizza lunch to attendees viewing together at your New York office, and dinner to those joining from an office in EMEA.
Make sure speakers account for all the different viewing options so they are aware and can acknowledge those joining via webcast, in the room, or those who may be dialed in by phone and cannot see the slides.
Offer virtual participation during Q&A, either via webcast chat, video or phone line. Even the smallest opportunities for inclusion can go a long way toward making all employees feel they are part of the team.
2. Focus on key ingredients.
With so many competing priorities and reasons to multitask, give your employees an engaging experience by staying focused on three main things: a clear agenda, well-prepared content, and a follow-up plan.
Clear agenda. When developing your agenda, remember your global audience even if they only account for a small percentage of your employees. This is your opportunity to talk to the entire company as one cohesive team. Don't just focus on who's in the room. Be inclusive and consider what topics ALL employees will benefit from most.
Well-prepared content. Your agenda is also only as good as your speakers' ability to deliver it, and your participants' ability to digest it. Ensure speakers are prepared to speak to their topic areas in a way that is accessible and engaging (i.e. keep content short and simple, feature videos, panel of speakers, minimal slides).
Follow-up. Work with your speakers or content providers to provide clear actions after the meeting — and be sure those are ready in a timely manner. Thinking about what happens after the event is just as important as what happens during the event.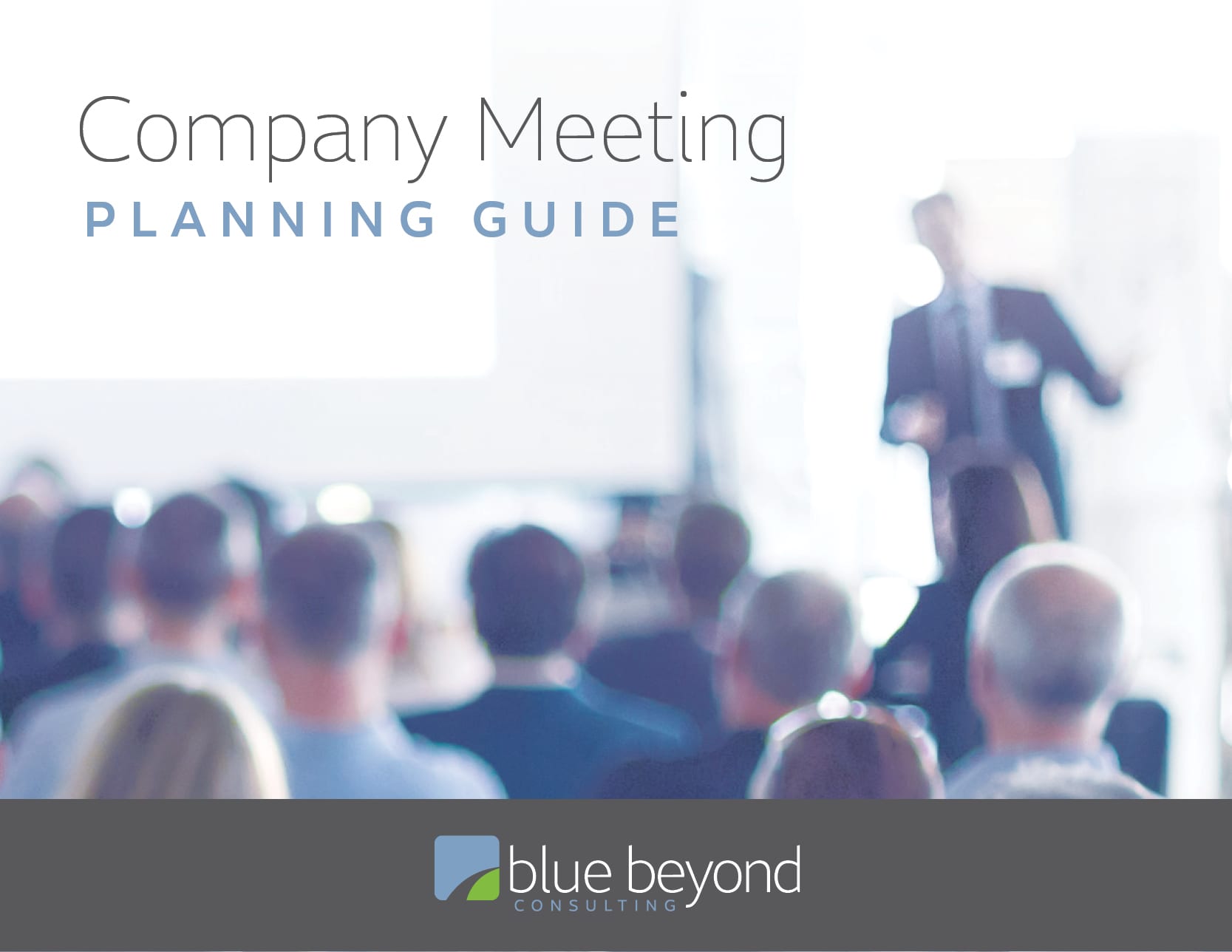 Company Meeting Planning Guide 
3. Think "participants" not "audience".
Knowing your audience is always important, but when it comes to company-wide meetings, think of your employees as "participants". Engage employees in a conversation that happens over time. Consider some of the following tactics to involve employees in a two-way dialogue rather than a top-down approach:
Crowd-source your agenda topics. Allow employees to shape the internal discussion in a transparent way by asking them to submit and vote on issues most important to them. This gives leaders a sense of what's really on the minds of employees and creates a forum for the most important issues to rise to the surface.
Invite customers as guest speakers. Connecting day-to-day work to the customer experience is one of the 'stickiest' ways to engage employees. Hearing customers share their success story provides a big energy boost and gives employees a first-hand look at the impact they're making in the world.
Spotlight individuals. People love recognition for good work. Taking time to share individual (or team) successes lets employees connect to great work happening in other parts of the company.
Provide a clear call to action. End each meeting with a specific call to action. Company-wide meetings often focus on high-level business updates with leaders encouraging employees to take risks, fail fast, or focus on execution. Rather than a vague ask, give them something tangible, i.e. take the survey, or pose a question that encourages follow up conversation among managers and teams.
4. Develop a strong partnership with your IT team.
You spend time planning and developing your content; make sure all your in-room and remote participants can fully experience it. Engage with your IT team early in the planning process. Give them an up-front seat at the table so they can understand overall meeting objectives and help navigate the technical landscape. Here are some issues to discuss to avoid common IT hiccups during virtual meetings:
Network bandwidth capacity – can it handle your audio/video content?
Is your physical room equipped to deliver a virtual meeting experience (e.g., microphones, amplified sound)?
What clear instructions will participants need for seamless log-in? What platforms are recommended for optimum viewing?
Who will participants reach out to if they experience technical issues during the meeting?
5. Sweat the small stuff – the details matter.
Your company-wide meeting, whether quarterly, monthly or weekly, is your spotlight moment to showcase your executive team, demonstrate cohesiveness, and deliver a compelling message that keeps your employee base engaged in the company's direction, mission and vision. Everything from the pre-meeting invitation to the post-meeting water cooler conversation speaks volumes about the culture of your company and the state of business. Careful planning and close attention to detail will pay off. Sometimes you need to sweat the small stuff in order to deliver a meeting with big impact.