When it comes to implementing organizational change, there is often so much to "do" that it can be easy to overlook the effort needed to support people in embracing and adopting new ways of being – behaviors, beliefs, or mindsets – that are critical to making change stick. In a white paper by the Center for Creative Leadership (Navigating Change: A Leader's Role), the authors reinforce the importance of focusing not only on change management but also on change leadership – the people side of change.
It's only natural that we are compelled to focus on the change management side of change – the operational "to-do" list that is more straightforward and within our control. The change leadership side of change is more challenging because we must confront the intricacies of human behavior and emotion – a sometimes unwieldy territory that takes time, patience, and ongoing commitment.
In this article, we'll walk through exactly what change leadership is, why it matters, and how you can prepare your leaders with the skills and strategies they need to guide your people through organizational transformations.
What Is Change Leadership?
Change leadership is the process of leading an organization through significant disruptions, transitions, or other organizational transformations. Unlike change management, which focuses on operationalizing your change process, change leadership is all about your people. The most successful change leaders are, therefore, the ones who communicate with, set priorities for, and listen to the people who embody their organization.
The 4 Key Change Leadership Skills
Creating an environment that will inspire change in the workplace depends on a few key leadership practices. Leaders must cultivate awareness of the self and of others, as well as demonstrate and encourage empathy and compassion. Leaders will be most effective when they show up with the same authenticity they expect from employees. An effective change leader also nurtures high expectations.
The most important leadership skills are distilled into four core competencies.
1. Show empathy: listen and understand the people who are being asked to change.
2. Demonstrate self-awareness: understand and adapt their leadership and change style to "speak into the listening" of those they are leading.
3. Embrace the messiness of change: communicate change, lead, and influence across functional, level, and time zone boundaries while balancing the need to ensure performance in the present day at the same time as driving toward a new future.
4. Lean into every phase of change: realize that leadership is almost always several steps ahead of everyone else, so it's essential to thoughtfully (and patiently) bring people along from the discovery and planning phases to the implementation and ongoing improvement phases. Sometimes you have to go slow to go fast.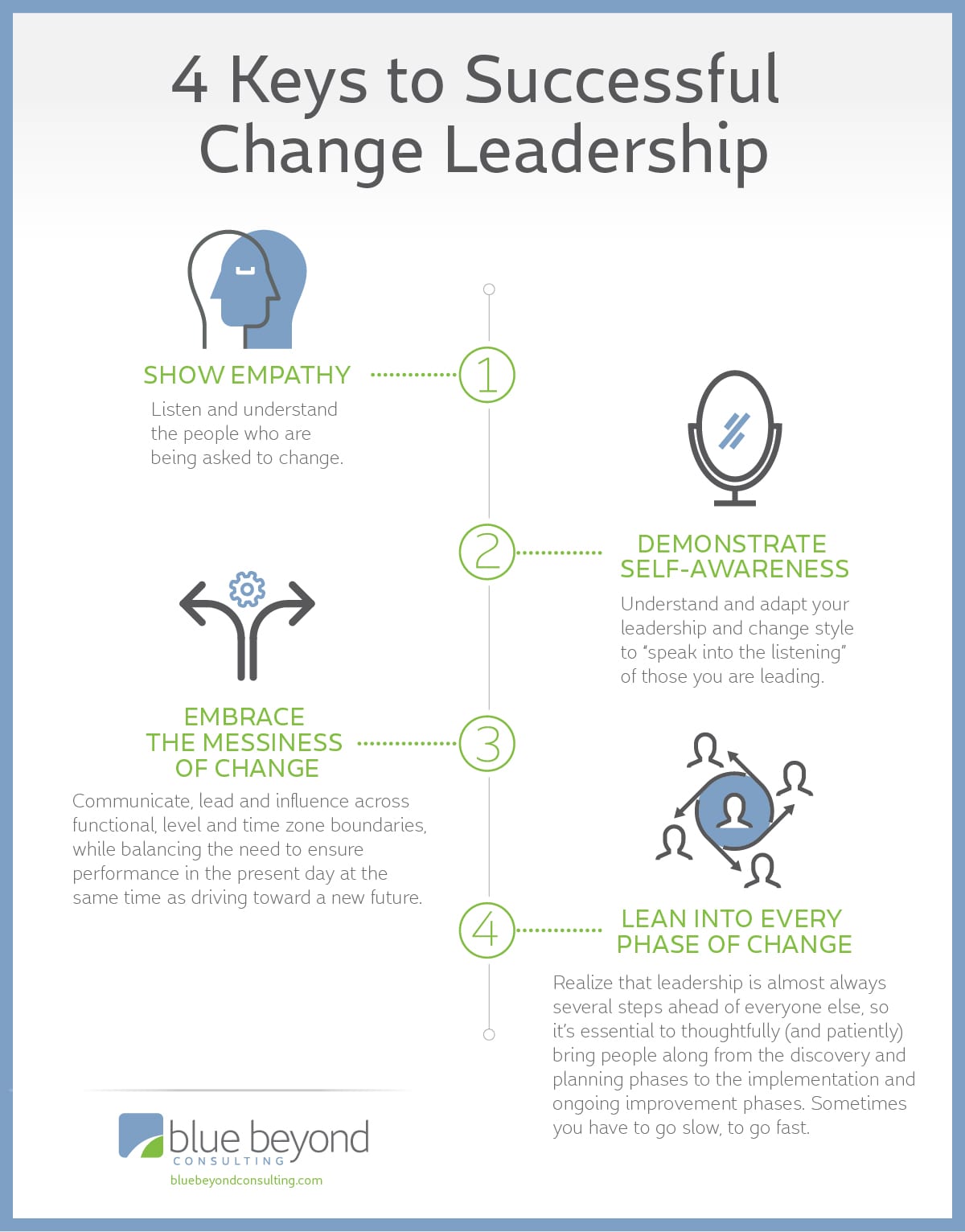 How to Lead Change Initiatives in Your Organization

Effective change leadership in any organization must master three realms of personal awareness and expression — what we call Head (starting with your mindset about people), Heart (inspiring how you connect with others), and Hands (guiding the actions you take to support your people). 
Let's explore how leaders can use all three to navigate organizational change.
1. Enable People to Think Differently (Head)
To be a successful change leader, you must enable people to think differently and initiate meaningful shifts in what people think is important. It's not about changing minds, it's about directing those minds toward the goal with discipline and transparency. Here are a few strategies to employ:
Clarify intent

. Identify where we are going and why. Here's where we want to go, and here's why. Candor is vital here. Your people are intelligent adults; treat them with respect.

Identify priorities

. What goals are

the

most meaningful

? What

commitments will stimulate the most collective

progress?

No self-directed change is an on-switch. It's a staged sequence of accomplishments, each identified as the next priority. So start with the most meaningful — not just the easiest — and identify the commitments required to stimulate the clearest sense of collective progress. Emphasis: collective. Lasting change is shared change.

Foster a growth mindset

. Move people from a "way things always are" mentality. In nearly all organizations, inertia is a powerful force — maybe the most powerful force. To move through it, it's essential for leaders to focus on wins and keep advancing the ball.

Reinforce common context

.

Your people want to know why you are

changing,

what the broader, bigger story is, and where everyone fits

. Every communication and every action must be couched within the broader context. Change for the sake of change is not going to motivate anyone for long. So keep the "why" visible and present.
2. Engage People Toward a Common Purpose (Heart)
Activating people to believe in the common purpose within organizational change requires leaders to engage them in ways that make it safe to learn and even to fail. As a change leader, there are no soft skills — only essential skills. Four of the most essential are:
Foster psychological safety.

Create

an environment where employees feel comfortable by modeling and building effective

relationships.

Create an intentional climate.

It's

your job to create a climate of intention that elevates both hope and consequences.

Lean in.

Leaders

must lean in and be emotionally present for the crucial conversations that naturally occur in times of stress.

Recognize contribution.

Leverage

the power of appreciation by recognizing contributions that can multiply effectiveness across the organization.
3. Organize People to do Work Together (Hands)
The choices leaders make and the actions they take are powerful determinants of the success of every significant change. It's not just about working differently but also about guiding people to do different work. Here's how:
Build teams.

Start strategically with the people you need to help lead and build teams that can emphasize collaboration over competition. Think about what they will need to succeed, from the right mix of skills and capabilities to the budget that gives them options. It's important to understand the psychology behind successful teams. (Author and journalist, Charles Duhigg,

wrote an in-depth piece

uncovering the keys for why some teams succeed and others falter.)

Set goals.

Set the path and determine the pace with objectives and milestones that balance meaningful progress with achievable wins. Build the milestones of change into specific expectations for individuals and teams. This helps build accountability and ownership and of course, provides measures of success that can be communicated and built upon.

Manage.

Manage with a constant eye on risks, interdependencies, and stakeholders. There will be problems, so anticipate, prepare, and troubleshoot in real time.
Final Thoughts
Change is most certainly the constant in today's rapidly evolving business environment. Taking the time to focus on supporting your most important asset – your people — in developing their capacity and comfort to embrace change could make all the difference in your ability to succeed and stay one step ahead.
If you're preparing for your next big organizational shift, get the right change leadership expertise when you partner with Blue Beyond.