The word Sawabona is a Zulu greeting which means: I see you. I respect you. You are important to me. Likewise, the response to this heartfelt salutation is Shikoba: "I exist and I am valued because you see me." At Blue Beyond, the concept of Sawabona is deeply ingrained in our culture – it informs how we treat one another, how we deliver and respond to feedback, and helps us feel safe in bringing our whole selves to work each day.
As a people manager, a question you may be grappling with is how to ensure your team feels both seen and valued in a virtual office environment. Here are twelve tips to recognize and show appreciation for your remote employees and put Sawabona into practice:

Why Employee Appreciation and Recognition Is Important for Remote Workers
Whether your team works remotely, has adopted a hybrid work model, or is located in offices around the globe, learning how to engage with and show appreciation for team members virtually is an essential skill for the modern leader. In their 2023 remote employee engagement survey, Promoleaf revealed that 91% of respondents believe their employers should do more to show appreciation for remote employees. In a similar survey, a majority (53%) of those who work from home in some capacity report that they struggle to connect with coworkers, according to data from the Pew Research Center. 
The bottom line? While it's always important for your team's morale to feel valued and appreciated by their colleagues, managers, and leaders, virtual recognition is paramount to connect and engage disparate teams. Giving awards and recognition virtually might look a little different, but there are still plenty of fun, unique ways to make your team feel valued at a distance.
How To Recognize Remote Employees
Recognition and appreciation come in many forms, and there is no one-size-fits-all solution for your remote team. Instead, it's important for you to consider the individual people who compose your team and the type of recognition that will make them feel most valued, seen, and validated for their efforts. 
Regardless of the approach, a well-rounded virtual culture will include recognition from managers and coworkers alike. Below, we share a few virtual team recognition ideas for both leader-to-employee and peer-to-peer recognition.
Leader-to-Employee Recognition
Set Aside Spend for Fun
Give each employee a certain amount of discretionary funds per year to spend on something they do for fun or something that brings them joy. This is a creative way to reward your employees and make getting a bonus feel more personal and special. Encourage employees to share how they're spending their fund on your internal communications platform to create culture-building moments.
     2. Tell a Story
Sharing a recent project success story on your internal communications platform can be a great way to recognize the employees involved in the work and encourage remote engagement in the long term. Make sure to tag each individual and take the time to show gratitude for their unique contribution.
     3. Send Your Team a Timely Gift
Find a gift everyone can appreciate that you can mail to your employees and open together over Zoom to create a fun, shared experience. For larger or enterprise organizations, employee recognition platforms are one solution to creating a scalable way to give and recognize.
    4. Make Space for Real Connection
One of our go-to team-building activities is called "Stringing of the Beads." It begins with a prompt that encourages everyone to share something personal or insightful, and represents everyone's unique individuality while still coming together to make something beautiful. 
For you, creating connections might begin with hitting pause on your weekly meeting agenda and simply taking time to ask out how each team member is doing. It's also important to acknowledge that work and home-life boundaries often blur for virtual teams  – laughing about and even celebrating unexpected interruptions from kids, pets, and spouses will help everyone relax and feel more human together.
    5. Buddy Up
It's not uncommon for your remote team members to feel anxious or isolated — especially for those who are new to working from home. Implement a buddy system so that everyone has at least one person they can connect with on a daily basis. Discuss the parameters with your team and agree that any serious concerns get filtered back up to you, so you can offer additional support as needed.
   6. Reimagine What Collaboration Looks Like
Our team has set up a virtual meeting room that is open for team members to "drop in" throughout the day. People can use the time to brainstorm, share watercooler chat, or simply work separately but together. These remote working sessions create community, break down virtual silos, and foster remote collaboration.
   7. Treat the Team to a Virtual Happy Hour
Why not host a weekly team video gathering? It will give everyone something to look forward to and provide an opportunity to let off steam, share a laugh, and get to know each other on a personal level. Alternatively, let someone on your team know they have your okay to host a virtual social event if you think your team would benefit from and enjoy peer-to-peer connection.
   8. Invest in Virtual Training Resources
Providing eLearning opportunities to your virtual teams — even when onboarding — shows them that you recognize their abilities and contributions and encourage them to continue developing these skills. In addition to courses that cover materials that are directly applicable to their jobs, consider investing in online training resources that encourage capabilities that will round out your team beyond their immediate day-to-day tasks, such as communication effectiveness, leadership development, and other soft skills seminars. Check out our 'ready to launch' skill-building programs. 
Peer-to-Peer Employee Recognition
   9. Record a Video Shout-Out to a Team Member
Peer-to-peer recognition may end with your people acknowledging and appreciating each other's contributions, but it begins with you and the culture you create on your team. 
Our first tip is a great example of the domino effect leadership recognition can have in encouraging cross-team appreciation. Your people may not be immediately inclined to record video shoutouts for outstanding performances from their colleagues, and this is where you can set an example. 
Start the chain by recording a video yourself and posting it on your internal communications platform. The person who received the shout-out can then record a shout-out for another team member, and so on. Try a prompt to kick it off, such as "You make this a great team because ________" or "I love working with you because _________."
   10. Create a Peer Recognition Fund
Budget permitting, give your employees a set amount per year to spend on recognizing each other. This doesn't have to be much — even a small gift card toward a local coffee shop can go a long way. Remote-friendly gifts, such as home office decor, flowers, or a new coffee mug, are other thoughtful gestures that will help your employees breach the geographical distance between each other.
   11. Start a Unique Employee Award
Employee award ceremonies, virtual halls of fame, or other high-visibility events are fun and effective in equal measure. These recognition activities give your team opportunities to think about the unique strengths each person brings to the operation. Virtual town halls are a great forum to celebrate award winners, while your internal communications platform or social intranet is the ideal place to showcase your employee hall of fame board.
    12. Send an eCard
Nothing says appreciation like a personalized card from a team member. Compared to a mailed thank you note, eCards empower your team to easily and quickly ping their colleagues when they go above and beyond. 
It's important to remember that recognition that will promote future successful behavior is specifically tied to the actions that person took. To that effect, encourage your team to give recognition eCards that are anchored to the reason why they felt their teammate was worthy of a shoutout. What actions did they take? What were the results? 
Additionally, you'll want to ensure that any recognition platforms you use currently (or use in the future) allow managers, leadership, and other employees to send and receive eCards.
To get started, here's a recognition eCard you can download, personalize, and begin using right away.
Share Our Virtual Recognition Tips with This Handy Infographic
Searching for a way to share these tips with your team? Look no further than our infographic: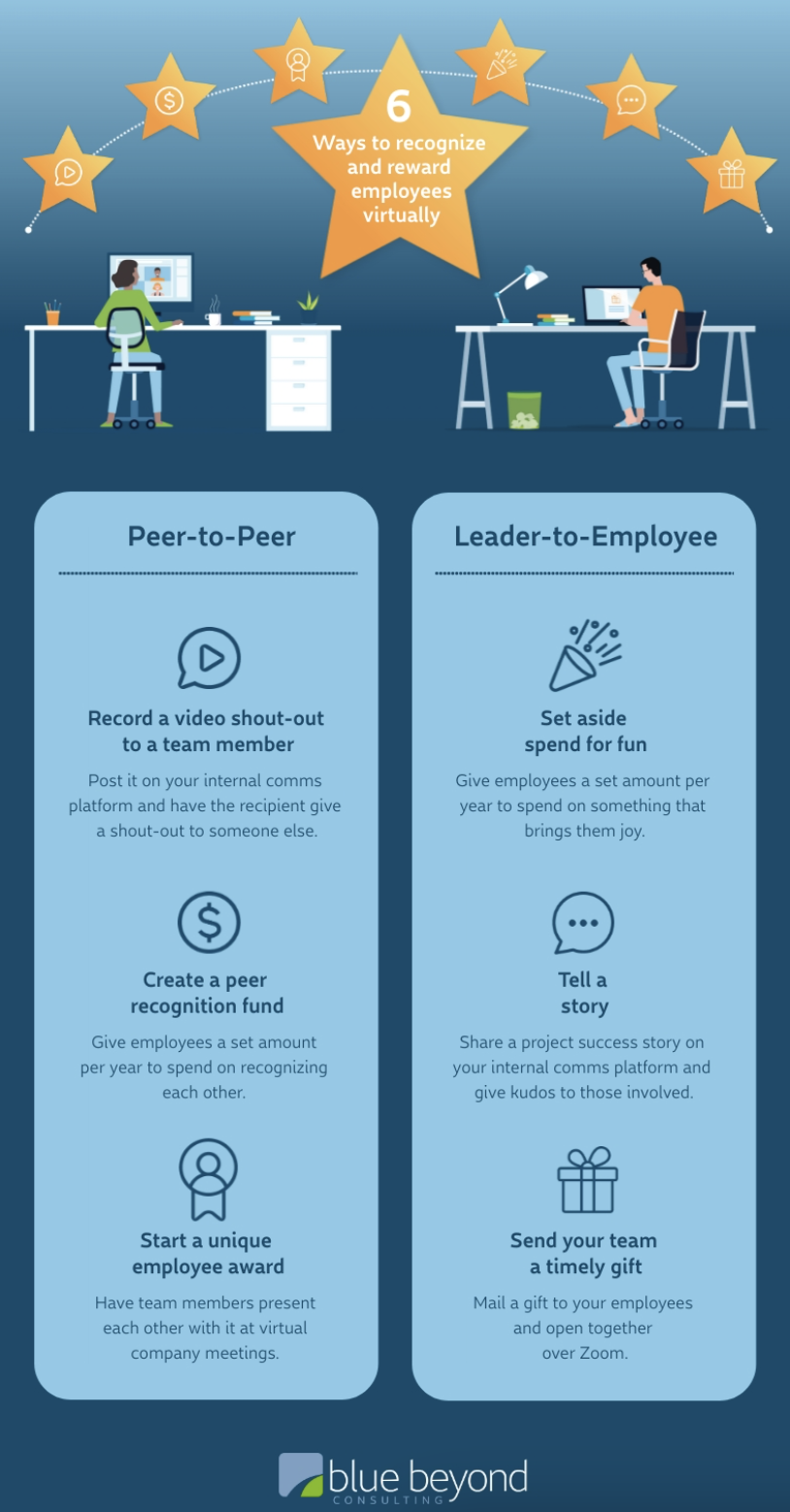 Final Thoughts: Virtual Recognition Is About Finding New Ways To Work Together
As humans, all of us have a deep and abiding desire to be seen, and within the workplace, that need is often met within the context of recognition. As a manager, you have a unique opportunity to set the tone for what that looks like within virtual work environments. Remember, an enthusiastic "job well done!" provides much more than a proverbial pat on the back; it serves as a mirror that reflects back to us the way others perceive us and affirms that we are, in fact, seen and valued.
For more on appreciating and recognizing virtually, view our resources for managing remote teams.