The word Sawabona is a Zulu greeting which means: I see you. I respect you. You are important to me. Likewise, the response to this heartfelt salutation is Shikoba: "I exist and I am valued because you see me." At Blue Beyond, the concept of Sawabona is deeply ingrained in our culture – it informs how we treat one another, how we deliver and respond to feedback, and helps us feel safe in bringing our whole selves to work each day.
As a people manager, a question you may be grappling with is how to ensure your team feels both seen and valued in a virtual office environment. Here are five tips to overcome out-of-sight, out-of-mind perceptions, and put Sawabona into practice:

Make space for real connection.
One of our go-to team-building activities is called "Stringing of the Beads". It begins with a prompt that encourages everyone to share something personal or insightful, and we do it before all of our company meetings. For you, creating connection might begin with hitting pause on your weekly meeting agenda and simply taking time to ask out how each team member is doing. It's also important to acknowledge that for all of us, work and home-life boundaries have blurred – laughing about and even celebrating unexpected interruptions from kids, pets and spouses will help everyone relax and feel more human together.
Encourage peer recognition.
When team members offer each other virtual shout outs, it elevates energy levels and builds camaraderie. Model this behavior yourself, and empower your team to celebrate small and big successes. To get started, here's a recognition ecard you can download, personalize, and begin using right away.
Buddy up.
As the global uncertainty of the pandemic continues, people likely feel anxious or isolated. Implement a buddy system so that everyone has at least one person they can connect with on a daily basis. Discuss the parameters with your team and agree that any serious concerns get filtered back up to you, so you can offer additional support as needed.
Reimagine what collaboration looks like.
Our team has set up a virtual meeting room that is open for team members to "drop in" throughout the day. People can use the time to brainstorm, share watercooler chat, or simply work separately but together. These remote working sessions create community and reassure everyone that things really are going to be ok.
Treat the team to a virtual happy hour.
Why not host a weekly team video gathering? It will give everyone something to look forward to and provide an opportunity to let off steam, share a laugh, or just commiserate about the state of the world. Alternatively, let someone on your team know they have your okay to host a virtual social event if you think your team would benefit from and enjoy peer-to-peer connection.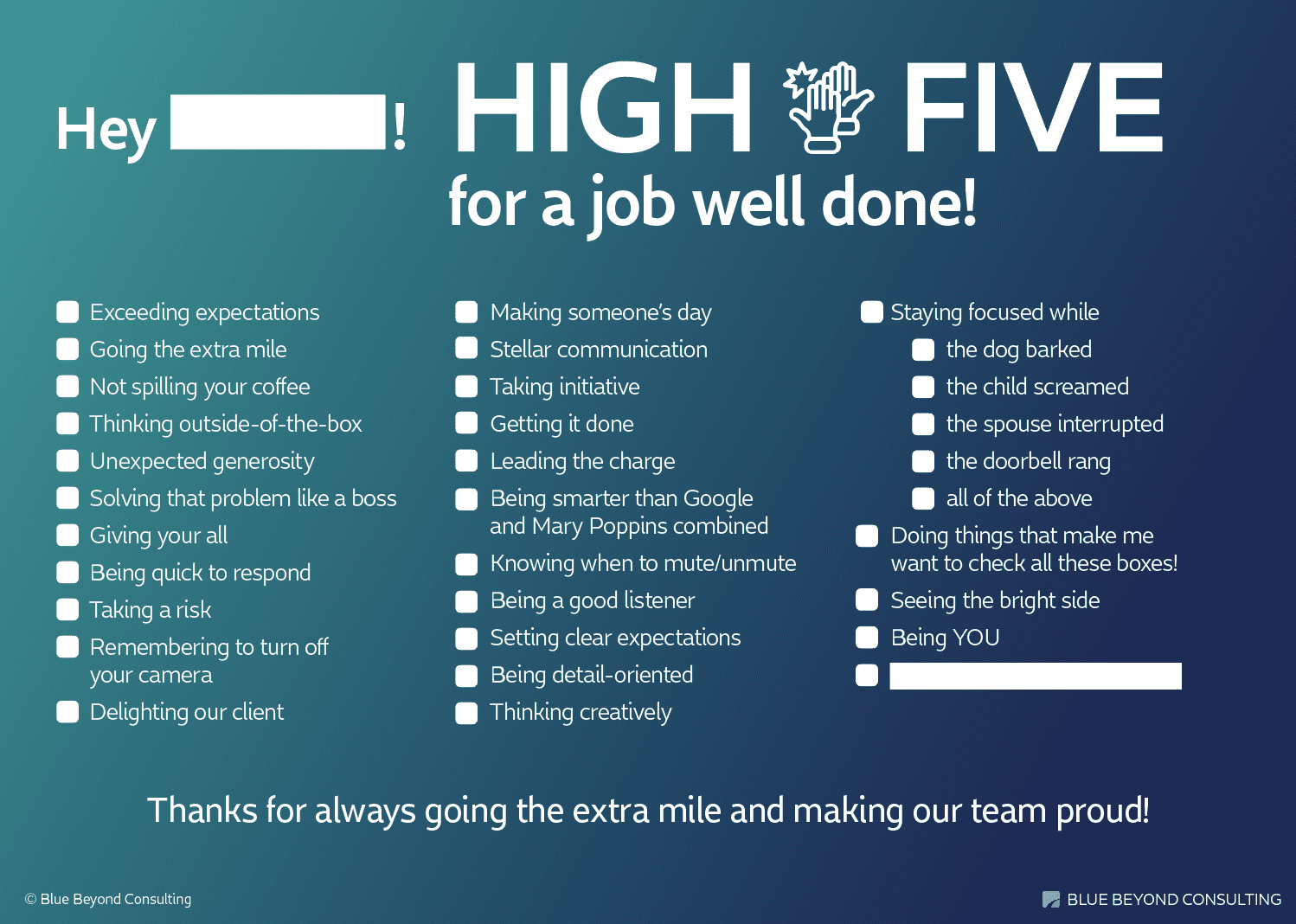 Download and personalize this eCard to give kudos to a colleague or employee!
As humans, all of us have a deep and abiding desire to be seen, and within the workplace that need is often met within the context of recognition. As a manager, you have a unique opportunity to set the tone for what that looks like under abnormal circumstances. Remember, an enthusiastic "job well done!" provides much more than a proverbial pat on the back; it serves as a mirror that reflects back to us the way others perceive us, and affirms that we are in fact seen and valued.
For more on appreciating and recognizing your team, read Employee Appreciation: Small Acts Can Change Workplace Culture.