Cheryl Fields Tyler, founder and CEO of Blue Beyond, was chosen as a For All Leader of the Year by Great Places to Work. This award recognizes leaders who:
Demonstrate long-term dedication and commitment to the development of every employee
Connect diverse people to a common purpose
Practice humility and empathy
Adapt to uncertainty
Foster trusting relationships in their organization
Provide an environment where employees can do their best work, develop and grow their own talents, and feel a sense of belonging and pride.
In this quick Q&A, a few members of our team share stories about Cheryl and the environment she nurtures at Blue Beyond.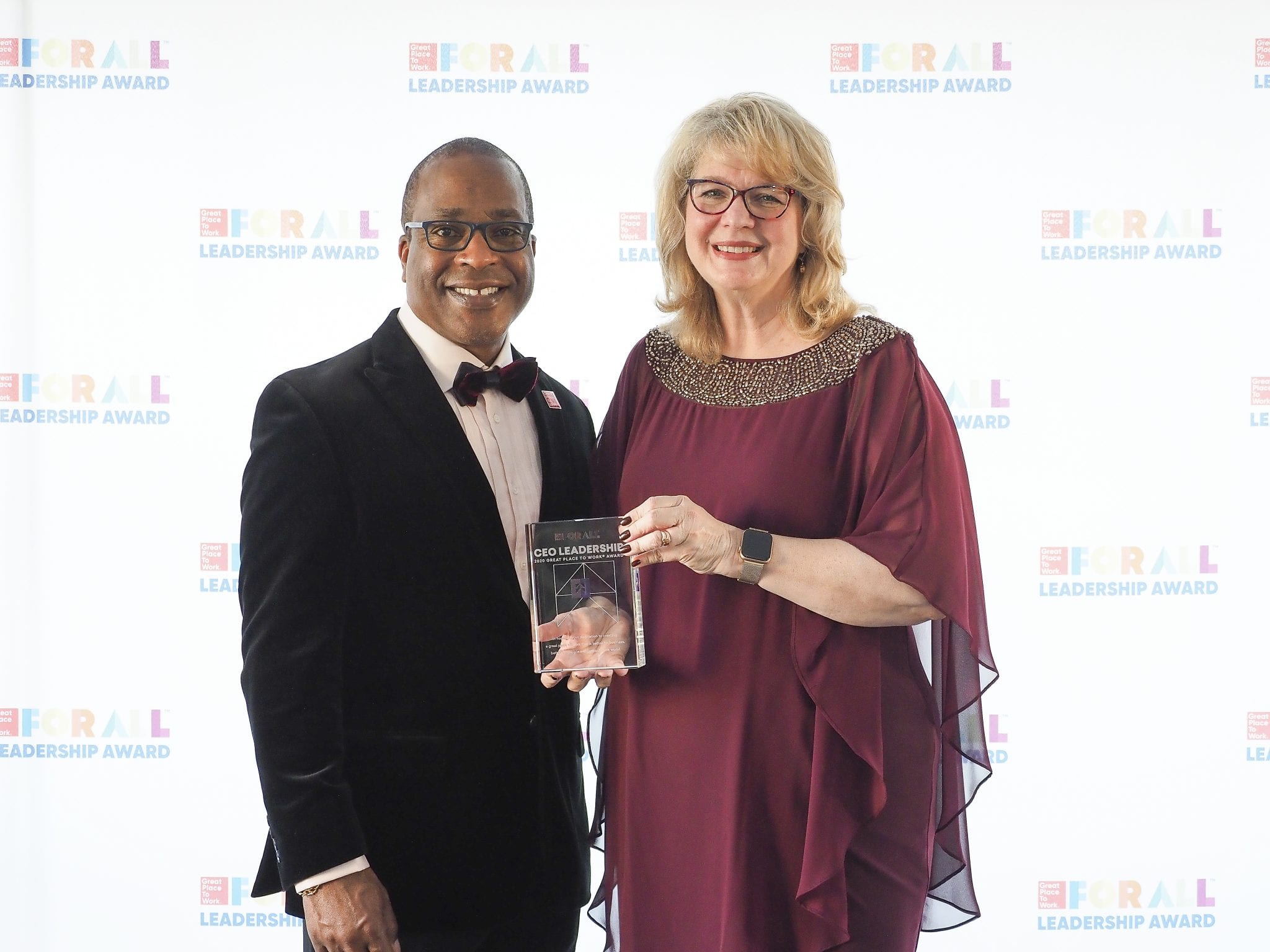 Mariah: Cheryl always celebrates each of us as whole people, and that our lives outside of work are equally valued as the work we do for our clients. I remember when I was pregnant with my second child, and it was an intense time for me personally. I had a client event the same day as my son's birthday, which I really didn't want to miss. Cheryl empowered me to think through where it was most important to be, and make a decision that was best for me, my family, and our client. We made sure that the client meeting had a great team to support it, and I celebrated with my son on his birthday. And guess what? The meeting went great without me! This is why we work together as a team — we do this for each other and lean in to support each other. The client even commented that she appreciated that our company embraced this type of culture.
Caitlin: There are dozens of stories, moments, quotes, stumbles, and successes we've shared over the years, and for me what stands out the most is that Cheryl is a true servant leader. Whether it's for an employee, a client, a nonprofit, or a foundation, Cheryl is always thinking about how she can be of service to others. She just has a way of guiding groups of people through tenuous conversations and coming out the other side as a durable, strengthened team ready to take on whatever lies ahead. When you're with Cheryl, you feel seen, heard, and you know your voice counts. I want to thank her for being a mentor, colleague, and role-model for our company, and for me personally.
Erin: Cheryl not only celebrates, but genuinely relishes other's accomplishments. She's not someone who always needs to be in the spotlight. Instead, one of the places I consistently see her light up is when she's describing the work of others on our team — or better yet, when she gets to watch THEM  share examples of their work, their challenges, and what they're learning. As part of my role, I interview a lot of potential new team members. I'm frequently asked about our culture and what makes us special. The core of that answer is Cheryl. Our culture emanates from her. She sets that example in how she shows up, how she invests in building relationships across the team, the work she delivers for our clients, the coaching she provides the team. She makes space for each of us to learn, grow, lead, and fail. I am so grateful to be on this journey with her.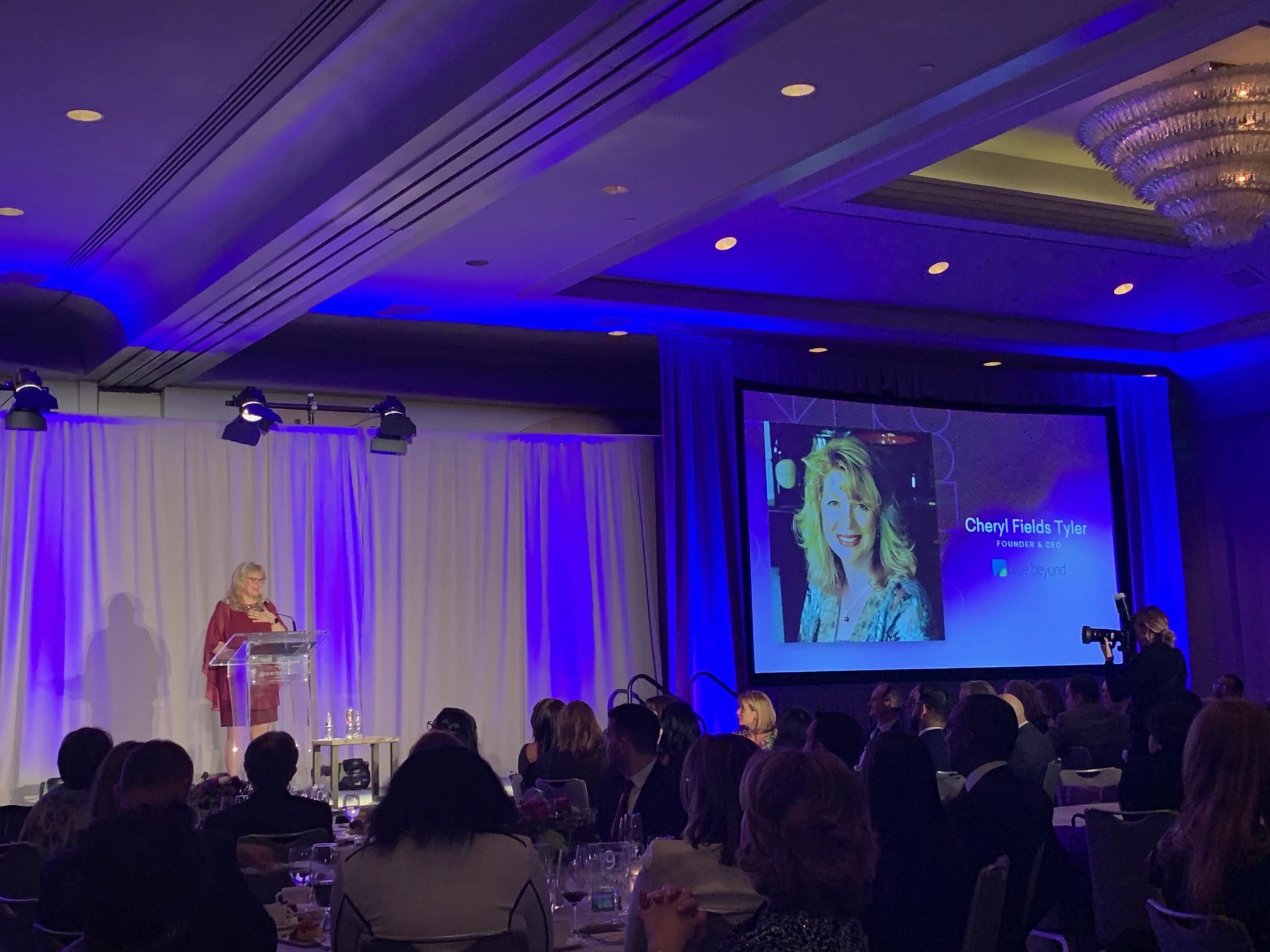 Debbie: I can say from experience that there aren't many workplaces that foster an environment where each and every employee can truly be the best they can. I joined Blue Beyond excited about exploring this new world of consulting, but also uncertain if I would have any opportunities to leverage my passion for coaching, mentoring, and leading teams. Within a short time, Cheryl recognized that I was ready to take on account leadership responsibility for two of our clients, and I just recently moved into a completely new role as head of operations. Cheryl sees the strengths and potential in each person on the team and is always willing to lean into conversations to support their individual growth.
Karen: While I was interviewing for my job at Blue Beyond, Cheryl found out she had just lost one of the company's largest clients. She could have easily decided not to take the risk of hiring me — adding an expense and the first team member on the East Coast. But instead, she not only hired me, but saw the opportunity to build our organization's bench strength and grow our pipeline of accounts. She did not lay anyone off, but instead encouraged everyone to focus on learning, networking, and professional development. Cheryl always stays true to her leadership style and believes in all of us. She not only leads the company during times of uncertainty, but she makes time to mentor and coach individuals on our team during growth periods in their personal lives and professional careers.
Sara: I am continually amazed at the deep trust that Cheryl models, which creates an environment for each of us to feel empowered and supported. It also allows us to embody that trust with our colleagues, and invest in building real relationships with each other. When I was hired, I was the only team member in Indiana. I was charged with essentially building two functions within the company: marketing and visual communications. Because Blue Beyond prioritizes connection and collaboration, I never felt alone or siloed. Cheryl, and others on the team, provided consistent support and encouragement (sometimes daily!). Today, we have a thriving team of seven in Indiana — and are still growing!